About Us
Love everything about Indian dishes? If you do, then give yourself a chance to taste the heavenly Indian Dishes served at Curry By The Curve. We are located at Shop 5/25 Hudson Pde, Avalon NSW. The Main dishes we serve are classified into different categories such as vegetarians, poultry and seafood. For the Vegetarian options, you can choose from Dal Makhani, Malai Kofta, Saag Aloo, Mixed Vegetable Korma, Baigon Dawat, Aloo Mattar and Punjabi Cholay. We also have Seafood Main Dishes such as Goan Fish, Prawn Malata and Punjabi Fish. These dishes and more are available if you place an order online. Kindly click the Order Online button and you can choose either picking up your food or we will deliver it right in front of your doorstep.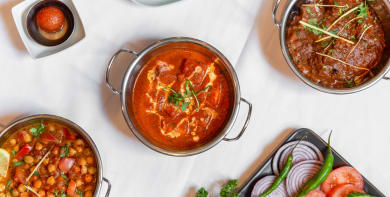 Reviews
100 reviews
Gary
"Always good food"
22/01/2022
Sue
"Excellent Indian food. Chicken korma was delicious."
11/01/2022
Cora
"Naan breads brilliant"
18/12/2021
Nives
"First time trying Curry by the Curve and it was delish! Highly recommend the butter chicken and garlic naan!!"
16/11/2021
Menu
Onion Bhaji - 2 Pieces
Onion and chickpea flour fritters.
$8.90
Veg Samosa - 3 Pieces
Most popular snack in Northern India is a fried pastry with a savoury filling of spiced potatoes and peas.
$11.90
Aloo Tikki - 2 Pieces
Popular street food of North India. Potatoes and cottage cheese pastry served with tamarind and yogurt.
$10.90
Chaat Papdi
Crisp fried dough wafers served with potatoes chickpea and tamarind.
$12.90
Chicken Tikka - 4 Pieces
Chicken thigh fillets marinated overnight in yogurt, ginger and garlic, barbecued in the tandoor (clay oven).
$14.90
Lamb Kebabs - 4 Pieces
Spiced lamb skewers smoke roasted in tandoori oven.
$12.90
Curve Special Naan Wrap
Tandoori chicken inside naan bread with lettuce, onion, tomato salad with mint sauce.
$13.90
Amritsari Fish - 5 Pieces
Fish fritters with gram flour batter.
$13.90
Gobhi Pakora
Most loved Indian starter. Cauliflower pieces dipped in salty and tangy chickpea flour batter and deep fried to make a crispy fritters.
$14.90
Chicken 65
Deep fried marinated chicken finished in a medium spicy sauce.
$15.90
Tandoori Lamb Chops - 2 Pieces
Sizzling marinated chops, tender bandore-spiced lamb with yogurt dip.
$17.90
Dal Makhani (Medium)
The all time favourite North Indian black lentil curry with a touch of cream.
$19.90
Palak Paneer (Medium)
A traditional dish of North India cooked in a thick curry of spinach and cubes of cottage cheese.
$19.90
Shahi Paneer (Mild)
A popular dish of Mughlai cuisine. A unique recipe of cottage cheese with cashew gravy and cream.
$19.90
Malai Kofta (Mild)
Dumplings made with mixed potato, Indian cheese (paneer) and the best curry sauce you will ever taste.
$19.90
Aloo Gobi (Medium)
Most popular homemade dish of India. Potato and cauliflower cooked with onion tomatoes and rich flavour of coriander and cumin.
$19.90
Aloo Mattar (Medium)
Potatoes and green peas sauteed with Indian spices.
$19.90
Baingan Masala (Mild)
Eggplant cooked in onion tomato sauce, topped with capsicum and potato with authentic Indian spices.
$19.90
Mixed Vegetable Korma
Vegetable curry with cashew and creamy gravy.
$19.90
Chicken Korma (Mild)
Chicken fillets cooked in cream and cashew gravy which give this chicken curry its mouth-watering creaminess.
$22.90
Chicken AK47 (Very Hot)
Vindaloo flavoured hot chicken curry with a touch of coconut and curry leaves.
$22.90
Mango Chicken (Extra Mild)
Wonderful erotic flavours by combining the smooth sweetness of mango, cream and mustard seeds.
$24.90
Chicken Chetinaad (Medium or Hot)
Spacial South Indian dish. Chicken cooked with some distinct ingredients which give a very special aroma to the curry.
$22.90
Punjabi Chicken (Medium)
Traditional homemade chicken curry with tomato onion based gravy.
$22.90
Butter Chicken (Extra Mild)
Popular in countries all over the world. Chicken fillets half cooked in tandoor and finished to perfection in a creamy tomato sauce full of flavour.
$24.90
Chicken Tikka Masala
A dish of marinated roasted chicken chunks with capsicums and touch of cream.
$22.90
Lamb Rogan Josh (Medium)
Lamb chunks slowly cooked in a gravy of browned onions, garlic, ginger and aromatic spices.
$23.90
Lamb Korma (Mild)
Diced lamb cooked in cashew gravy, which gives the tendered lamb curry its mouth-watering creaminess.
$23.90
Lamb Kofta (Medium)
Lamb meatballs cooked in the oven and finished with coconut gravy.
$23.90
Lamb Vindaloo (Very Hot)
A hot and spicy east Indian specialty from the beaches of Goa, cooked in chilli, vinegar and spices.
$23.90
Beef Korma (Mild)
Beef cooked in a delicious cashew gravy.
$23.90
Beef Vindaloo (Hot)
Spicy beef curry cooked in onion, cumin, ginger and chillies with tangy sweet and sour flavour.
$23.90
Beef Madras (Medium)
Beef curry with coconut flavour cooked with special South Indian spices.
$23.90
Fish Chettinad (Medium)
Cashew based south Indian style fish with a touch of coconut and curry leaves.
$25.90
Fish Matar Masala (Medium)
Bombay style fish curry with rich flavours of homemade spices and green peas.
$25.90
Prawn Malabar (Medium)
Creamy, spicy aromatic curry made with capsicum, mustard seeds, and coconut milk.
$25.90
Chilli Cheese and Garlic Naan
$7.30
Methi Paratha (Flaky Bread)
$6.30
Soft Drinks 375ml Coke Classic
$3.90
Contact Us
Find Us
Shop 5, 25 Hudson pde, Avalon, 2107
Opening Hours
Tuesday
5:00 PM - 9:00 PM
Wednesday
5:00 PM - 9:00 PM
Thursday
5:00 PM - 9:00 PM
Saturday
5:00 PM - 9:00 PM
Please note, delivery times may vary.
We deliver to
2106 Newport, 2107 Avalon Beach, 2107 Bilgola Plateau, 2107 Clareville, 2107 Whale Beach, 2108 Palm Beach